---



---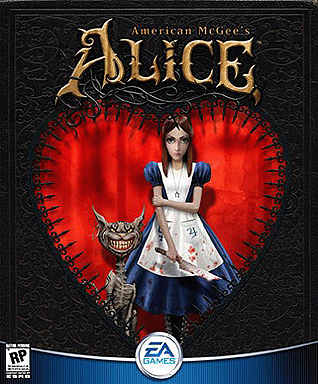 American McGee's Alice
Ages: Mature

Not the Alice that you read as a child but a twisted spin on a story that was pretty dark to begin with. All your favorite characters are there – the Cheshire Cat (great voice), the Caterpillar, the White Rabbit and of course, the Queen of Hearts in her enlarged evil self. The game is well done. The back story of Alice's asylum incarceration sets the tone. There is a clever use of toys as weapons and continuing surprises and shocks. The graphics are almost enough to play the game, both psychedelic and beautifully weird.
Editor Review 5/01
American McGee's Alice
&copy Electronic Arts $19.99
Windows 95, 98, ME. Voodoo-class hardware accelerator or better
To Order: http://www.amazon.com
---
NOTICE
Unless otherwise indicated, games, movies, books or other products which are reviewed or mentioned on this site have been given to us by the respective authors, publishers, distributors or their public relations representitives.
Alphabetical list of all reviewed items
Reviews - Computer-based games
Reviews - Console Games
Reviews - Hand Held Games
Reviews - Two Person Games and MMORG
Reviews - Strategy Guides
Reviews - Anime and Manga
Reviews - Movies, DVDs, Books
Reviews - Mobile and Casual Games
Reviews - Software and other stuff
Reviews - games for younger girls
Coming Soon
Our Favorites


Games4Girls(SM). Metron Studios is a division of Metron Computerware, Ltd., Oakland, CA
Copyright © 1999-2005 Metron Studios

Web presence by Metron Studios
20050725