---



---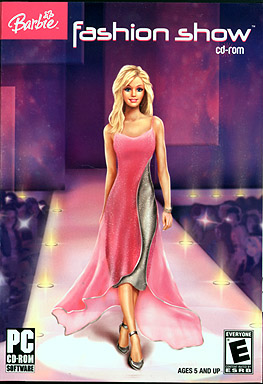 Barbie Fashion Show
Ages: 5 and up

Sheesh! I designed a game back in the '80s called Designer Jean that looked like this. I used style, fabrics and patterns to design clothes and had them change with the seasons. Vivendi Universal does it better, but I did it first.
Anyway, It's a well done game. You have more choices in designing the clothes; while you don't have a very wide selection of styles -- you do have a number of design assignments -- school game, pajamas, formal and the requisite wedding. You design both front and back and can turn your model in front of a mirror to view your creation in 3D.
The runway part is cool -- designing the props and how the model will walk down the runway. By clicking on the flashing Xs you can have your model do some cute action that adds a lot to the walk. The animation gives you the feeling of really being there -- the swaggers and turns are fun to play with. The final show is a cut scene with different camera angles and really looks professional. Girls' dreams of becoming star models are currently hot on TV and this game gives girls a chance to play with that dream without enrolling in modeling school.
Reviewed by: Editor - 10/04
Barbie Fashion Show
&copy Vivendi Universal $19.99
W98 Me XP 2000
To Order: Win http://www.amazon.com
---
NOTICE
Unless otherwise indicated, games, movies, books or other products which are reviewed or mentioned on this site have been given to us by the respective authors, publishers, distributors or their public relations representitives.
Alphabetical list of all reviewed items
Reviews - Computer-based games
Reviews - Console Games
Reviews - Hand Held Games
Reviews - Two Person Games and MMORG
Reviews - Strategy Guides
Reviews - Anime and Manga
Reviews - Movies, DVDs, Books
Reviews - Mobile and Casual Games
Reviews - Software and other stuff
Reviews - games for younger girls
Coming Soon
Our Favorites


Games4Girls(SM). Metron Studios is a division of Metron Computerware, Ltd., Oakland, CA
Copyright © 1999-2005 Metron Studios

Web presence by Metron Studios
20050725