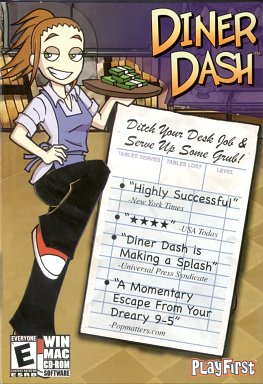 Diner Dash
Ages: Everyone

Women love this game. Something about a stock broker packing in her job to start her own restaurant must hit a nerve. Flo doesn't cook but she does everything else -- seating, waiting, getting the orders to the correct customers, handing out the checks, bussing the tables and keeping the customers happy. With tips and her earnings she can decorate and make improvements towards her plans to develop a five star restaurant.
The designers have let the personalities come through -- Flo's tiredness, the customers impatiently waving their hands for attention and the smiles or frowns depending upon the quickness of service all contribute to the enjoyment of the game. It has been so successful, that there is a sequel, Diner Dash 2.
Reviewed by: Editor - 09/06
Diner Dash
&copy Play First $19.95
W98SE Me XP 2000 MAC
Game Site: http://www.playfirst.com/
---
NOTICE
Unless otherwise indicated, games, movies, books or other products which are reviewed or mentioned on this site have been given to us by the respective authors, publishers, distributors or their public relations representitives.
Alphabetical list of all reviewed items
Reviews - Computer-based games
Reviews - Console Games
Reviews - Hand Held Games
Reviews - Two Person Games and MMORG
Reviews - Strategy Guides
Reviews - Anime and Manga
Reviews - Movies, DVDs, Books
Reviews - Mobile and Casual Games
Reviews - Software and other stuff
Reviews - games for younger girls
Coming Soon
Our Favorites


Games4Girls(SM). Metron Studios is a division of Metron Computerware, Ltd., Oakland, CA
Copyright © 1999-2005 Metron Studios

Web presence by Metron Studios
20050725