---



---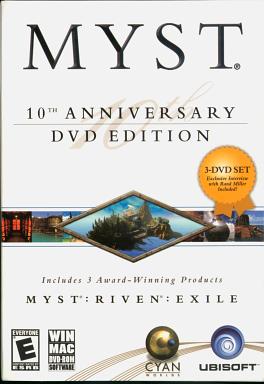 Myst -- 10th Anniversary DVD Edition
Ages: Everyone

I envy those people who haven't played the Myst games yet. What a wonderful experience to look forward to. Ubisoft has put out a 10th anniversary edition (gads has it been that long?) that includes Myst, Riven and Exile for the PC and Mac. I have played all three games, sharing it with someone. A great two-person game.
The acclamation, both mine and others have been written before. These adventure/wander games have incredible worlds to visit, haunting music, complex puzzles but most of all it totally draws you into the worlds created by the Rand brothers who have create an amazing mythology to support their legends. You will not easily forget this journey.
Reviewed by: Editor - 10/04
Myst -- 10th Anniversary DVD Edition
&copy Ubisoft $16.99
W98 XP MAC OSX
To Order: Win http://www.amazon.com
To Order: Mac http://www.amazon.com
---
NOTICE
Unless otherwise indicated, games, movies, books or other products which are reviewed or mentioned on this site have been given to us by the respective authors, publishers, distributors or their public relations representitives.
Alphabetical list of all reviewed items
Reviews - Computer-based games
Reviews - Console Games
Reviews - Hand Held Games
Reviews - Two Person Games and MMORG
Reviews - Strategy Guides
Reviews - Anime and Manga
Reviews - Movies, DVDs, Books
Reviews - Mobile and Casual Games
Reviews - Software and other stuff
Reviews - games for younger girls
Coming Soon
Our Favorites


Games4Girls(SM). Metron Studios is a division of Metron Computerware, Ltd., Oakland, CA
Copyright © 1999-2005 Metron Studios

Web presence by Metron Studios
20050725