---
---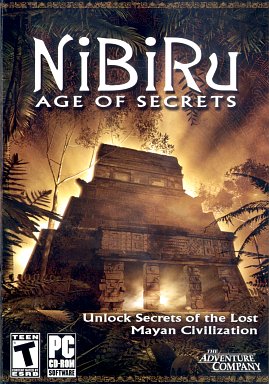 NiBiRu
Ages: Teen

First the good things. The 2D sets are amazing. The drawings of the cities, buildings, Mayan ruins and intimate interiors are beautifully done, with great attention to detail and a wondrous sense of light that seems to emanate from these scenes. The 3d characters move surprisingly well in the 2d landscape -- walking, climbing and going up stairs without that slippery queasy floating above the ground look that is noticeable in poor animation.
The story involves Martin's search for "something important" in the new tunnels found in Bohemia. The indication is that they were some sort of Nazi underground bunker. His uncle, a scholarly archeologist implies that the Germans were on the brink of an important discovery involving alien technology and Martin must find out if this was true. The adventure begins in Prague and moves on to Bohemia to the underground German installation. The depiction of the Nazi installation is so detailed and real it feels that with a push of a button it will all start up again. It is an ominous site, and wandering about is unsettling. Finally, there is enough information gleaned to take Martin to the next phase -- Mexico. With help from friends he eventually makes it to the Mayan temple. There are a few more puzzles to solve and artifacts to find before the answer is revealed.
The games is filled with small details, getting a permit, hassling with bureaucrats and guards, finding transportation, searching archives -- things you would actually do if you were on a search. Puzzles are mainly of the slider type - mostly easy except for one -- but then, they are not timed.
The bad parts are the constant black screens that precede the new scenes, and waiting while they are loaded. I wished that it could have been made smoother and quicker. The voice acting isn't great, with characters sliding from Germanic accents to Spanish. In spite of all the things I had to do, I felt like an observer -- just moving the Martin around the scenes and in front of the people he was to dialogue with. Did I enjoy it anyway -- Yes.
This game is now included in The Adventure Company's Volume 1 Adventure Collection, along with four others.
Reviewed by: Editor - 10/05
NiBiRu
&copy The Adventure Company
W98 Me XP 2000
To Order: Win http://www.amazon.com/ $19.99