---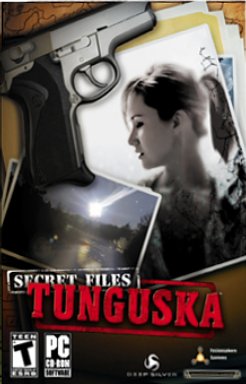 Secret Files of Tunguska
Ages: Teen

True fact: on June 30th 1908 there was an explosion estimated to be 1,000 times more powerful than the bomb dropped on Hiroshima, in a remote region of Siberia - Tunguska. It felled over 800 square miles of trees (Wikipedia). To date, what happened still is still being discussed and by some still deemed a mystery - and that is where this game begins.
After the explosion, Nina, on a visit to her father's office at the Naturkunde Museum in Berlin finds him missing, his office in shambles, and mysterious black hooded forms lurking about. Queries to the police are useless, but she does find Max, a scientist who also has an office in the museum and who believes her story and is wiling to help her. Since some of her father's secret writings make reference to Tunguska - she hightails it off to Moscow.
You should pick up every thing the magnifying glass highlightsl and thank that useful device, because you would never think of picking up a bicycle spoke, stockings, a rat trap, pieces of rock, buttered bread, etc. If this seems peculiar, the objects that Nina constructs with these items boggle the mind. Yet they are all put to use in solving the immediate puzzles or removing impediments. Fortunately her skill as a motorcycle mechanic comes in handy, as do her cooking skills. She impersonates a Russian soldier, and does outlandish things like giving a scientist a jam sandwich laced with a laxative to get him to leave the room. This is not just thinking out of the box, it's thinking far out past left field.
Adventure games need a mix of exploration and puzzles. In SFT there are many different locations; Berlin, Russia, Cuba, a castle in Ireland, a cave in China, a research station in Antarctica. At each step of the way your are constantly picking, making and solving and soon it begins to feel like work.
The settings are artfully done in 2D - from wonderful places were you most likely will never have the opportunity to see to those where you wouldn't want to see. Max adds additional interest to the game - taking on the exploration of some of the areas and delving deeper into this complex mystery.
Not all the questions are solved, and one for me is, why did they give Nina Kalenkov a valley girl accent whose throwaway attempts at being cool should have been thrown away.
This game is now included in The Adventure Company's Volume 1 Adventure Collection, along with four others.

Fun Factor: Five incredible adventure games - what's not to like
Female Factor: Three terrific female protagonists - a great percentage
Player Friendly: Difficulty varies but help is provided in various ways and depends upon the game
Reviewed by: Editor - 04/08
Secret Files of Tunguska
&copy The Adventure Company/Dreamcatcher
Platform(s): WVISTA XP W2K
To Order: Win http://www.amazon.com/ $19.99